Peer Review and Scholarly Standards for Electronic Editions
"One mustn't criticise other people on grounds where he can't stand perpendicular himself." —A Connecticut Yankee in King Arthur's Court
Peer review of scholarly publications helps to assure the integrity of texts and the responsible use of information. Since its inception, the Mark Twain Project has held itself to the highest standards of scholarship, producing award-winning, meticulously edited texts. The volumes of the UC Press critical editions are peer reviewed independently by the Modern Language Association and by the University of California Academic Senate.
Peer Review of Electronic Texts
Mark Twain Project Online will undergo the same rigorous peer review process in order to receive the seal of the Committee on Scholarly Editions (CSE) of the Modern Language Association (MLA) and the imprint of University of California Press (see below).


Inspection by the MLA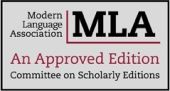 Approved April 2009
The Committee on Scholarly Editions' inspection of electronic critical texts is as thorough and exacting as its inspection of print editions—with an additional set of technical requirements. During the review process, a CSE inspector visits the Mark Twain Papers & Project and examines the archival materials, the editorial process, and the edited texts.
The inspector also examines a sample of the encoding and its adherence to relevant guidelines (in this case, the P4 release of the Text Encoding Initiative); site documentation; and the user interface. Upon completing the review, the CSE inspector files a recommendation report with the CSE, which votes on that recommendation. Sites passing this review receive a seal identifying them as "Approved Editions"; MTPO passed the CSE's review in April 2009.
For more information on the MLA's review process for both print and electronic editions, see the MLA Guidelines for Editors of Scholarly Editions.


Peer Review by the UC Academic Senate

Mark Twain Project Online has received the imprint of University of California Press. The imprint is controlled by a faculty editorial committee composed of twenty members of the Academic Senate, representing all ten UC campuses. The committee bases its decision on the reports of the CSE and its own internal review of the project. It controls the final acceptance of all books, periodicals, and electronic projects published by UC Press.